Lion Dr. R.RAJARAJAN
His Mission – Service to Education
Vision – Student's Progress & Service to Education
Motto : "THINK HIGH"
Lion Dr. R. Raja Rajan so far spent his major part of his life only with Education and Education related services only. Nothing else!. Neither he is in a Government School nor in a college! Not at all! But his breath is fully involved only with Education. Started his Career in 1979, say about 35 years, as on date put together 30 to 40 days, he did not teach or involved in Educational services. Rain or shine! whatever may be the circumstances he will be with his students. This is in the profession, he himself undertook as his life mission out of Instinct. His vision lies only in Education! Education! Nothing else!
His day commences around 3.30AM every day, excepting an Saturdays and ends in 11 pm or little more in teaching leaving a small gap in mid-day.
The inspiration towards Education and related services arose his mind by instinct in his very young days. Teaching his junior students commenced even when he was in his IX std itself. Even when he was young his father Badminton Ramalingam motivated him for in studies and for sports. Only he is the one who made him to realize the holistic value of Education and the true meaning of life even in early ages.
He was brought up with reasonable comforts by his father and in an important turning point when he was about to step in for higher education, his father terribly came down in his economic resources. He struggled to continue his studies and was forced to earn to; take care of himself and do whatever possible to his family also. This is the important reason, he opted to serve to the Educational development of down trodden. He is fully aware of the struggles of downtrodden children to study and this created a deep desire to serve take up Educational Career as his service.
Raja Rajan belongs to Mayiladuthurai. He studied in Kornad Municipal High School (Now Kittapa Higher Secondary School) and continued his college Education in A.V.C College – Mannampandal near Mayiladuthurai.
He used to offer free tuition and coaching to downtrodden children in the nearby hamlets of the banks of River Cauvery. His father encouraged him to visit the villagers to help the downtrodden children for their Education. Driven by the same spirit, during and after his college days he continued to teach his junior students and this becomes his daily activities. Besides being a very good Ball-Badminton player he never misses to present himself or practice in the grounds almost daily.
His journey of Educational Services Commenced in 1979 in Mayiladuthurai, in between he got many jobs including in a Nationalised Bank (IOB). Nothing prevented his passion for teaching. He aspired to become a scientist and do the best for Education and interested to bring a deep change in the existing Education scenario.
It is clear, that all the good things happened in his life is purely because of his Educational services and the same thing is also responsible for all the struggles he faced in his life.
With this deep desire, he started a small institution in his house itself in Mayuram in the name, "Pole Star Coaching Centre" and subsequently shifted the institution to a place in kornad in 1980. The name 'Pole Star' is because of his liking towards Astronomy. At that time, the Government abolished XI std and PUC and introduced Higher Secondary Education system. He commenced his teaching since that time itself. But he could not continue his institution, games and other activities in Mayiladuthurai. For a brief time span, he spent his time in Hyderabad.
Chennai :
The economic constraints of his parents and family responsibilities forced him to migrate to Chennai. With empty hands and having no one to help him he migrated to Chennai.
Really horrible life indeed! Hand to mouth existence! Survived with petty income! He was in a petty job in Harbour, he left it and started teaching as a freelancer and this become his survival and becomes the source to support his parents.
This opportunity provided him enough knowledge and expertise to become an efficient teacher in multi focussed areas. At this juncture, he got a placement in Indian Overseas Bank through competitive examinations. His first appointment was in Kavarapettai a remote place for away from Chennai where he continued for about a year, then got transfer to Esplanade, Using Ball Badminton background where he worked for about 13 years, then came to Adyar where for few days, then posted in Tamil Nadu Medical University Extension Counter where from he took VRS after having completed 18 ½ years of service only.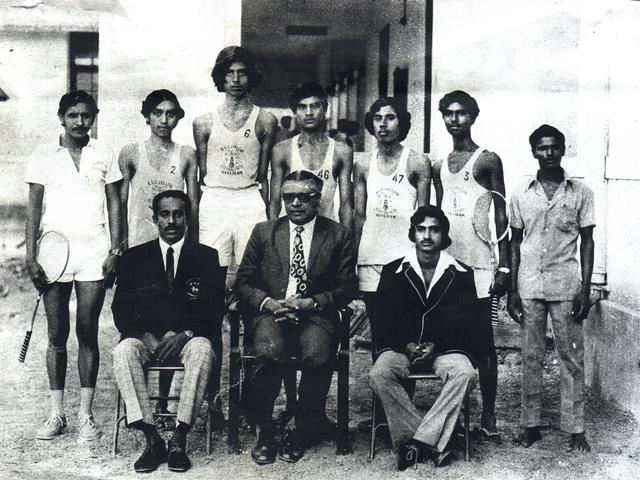 His banking service was good only. He was known for his good services to the customer, took some responsibilities, leadership besides as a good orator. He did not accept promotion to continue his teaching. Even when he was working in the bank he continued his teaching and most of the students and parents knew him as a teacher only, but not as a member of a Bank. He maintained his classes between 4.30 Am to 9 AM and 5.30 PM to 11 PM. In this time he was associated with one Mr. Pillai and because of him only he stayed in Nanganallur.
Full time service:
It is so happened he incorporated his own coaching institution. "Pole Star Coaching Centre" in 1981 in Nanganallur and this institution besides become a land mark in Nanganallur did a remarkable service to the cause of Education. Wedding took place in 1988 with Vasanthi Rajarajan M.A, M.Phil, B.Ed, Ph.D. She also joined in his Educational services with full involvement. The services through Pole Star continued for about 25 years with full vigour in Nanganallur.
The service through Pole Star Coaching Centre is worth mentioning here.
There were no proper Institutions in Nanganallur at that time. So the service of his Institution Broadly helped him. He offered free Coaching for Government School Students. A very good number of downtrodden students are benefitted by him. This service was appreciated in those days and even a memorable one.
Subsequently 20% of the Students who have joined in this Institution were given free coaching, 20% fee concession and the rest charged moderately based on their economic condition. Thus, this Institution was very much known for dedicated and holistic services.
Hundreds and hundreds of economically downtrodden students were provided free coaching and training and they; were also provided free coaching and training and they were provided with food and shelter also. Financial Assistance was also offered to them. For all these services, no donation was collected. The entire expense was done by Mr. Raja Rajan himself from his own resources.
Pole Star Educational Trust was incorporated and registered in 1993 to systematise his Educational services.
Hundreds of school dropouts were helped to continue their Educational services by; offering financial help besides training for private and direct appearance.
Annual Days! Award & Charity Programs!
Annual day function is an important event of this institution. The entire expense of this grand function was contributed by Mr. RajaRajan and no donation or charges of any form will be collected from any one of his students.
The toppers and rank holders will be given Awards prizes and certificates during this program. Various competitions to exhibit the talents of the students, cultural programs were conducted during these Annual days. The winners and participants were awarded with mementos, prizes and certificates.
Scholars of various fields, scientists, state & central ministers, philanthropists, social reformers and Educationists were invited to offer lectures during these functions.
During Annual days various services, charities were offered to downtrodden students, orphanages, old age homes, spastic schools besides many.
Technical Institutions:
A technical institute, recognised by Directorate of Technical Education was opened to offer Typewriting and short hand classes. Many students were benefited through this Institute.
This was the period of lack of awareness about the various avenues of Education and career and in that period itself Rajarajan used to conduct Career Guidance programs, Seminars and counselling sessions. Various programs for training students for All India Medical and Engineering exams were conducted. Added to this CA, ICWAI, ACS classes were also conducted. Classes for NDA, CDS and Synic school admissions were also in full swing.
Various sessions for competitive examination which include Government services were also in force.
This service created many achievers and various professionalists in various fields which include Engineers, Doctors, Defence Officers, scientists, Police officers and they are all in vibrant services now and in touch with Mr. RajaRajan and Institution. Many of his Alumni are making mark in various foreign nations. The products of this institution, as on date, are shining and in limelite in number of fields, In and around the state, country and in various parts of the world.
Institution for Computers:
In this period Computer Education was a high dream, unreachable to poor people and also for middle classes. Computer Education was so costly and not affordable by common people. RajaRajan, taking a great financial risk, formed a computer centre. He offered the courses with a affordable fee structure. The students produced by Pole Star Computer Centre are in the peak in their profession even today throughout the world. This centre received the credit of one of the few centres in and around Chennai and was much appreciated by Press Media.
The students belonging to middle class, downtrodden were benefited by this centre.
Few Government offices, Police Stations and social organisations used the services of this centre. Many nearby schools which do not have computer facilities utilized the services of this centre only.
Pole Star Group of Institutions viz. Pole Star Coaching Centre, Pole Star Technical Institute, Pole Computer Centre and Pole Star Entrance Exam wings were functioning well and at this juncture RajaRajan decided to enter into his dream project that is incorporating school.
School Formation:
RajaRajan's aspirations to start a holistic school with service based approaches are nothing but the desire by Instinct. But he never anticipated the serious constraints behind it! He took bold steps in forming the school. The commercialized approaches and improper Education in the existing private schools have driven him to create a model school. Of course, the deep routed desire to contribute the might to the cause of Education, the confidence in the profession, a great amount of good will earned catalysed him to start the school.
Without much of financial background, no ancestral property, but believing in his sincere hard work he entered in the venture of starting the school.
Generally, the schools will be started in small place or rented building, then gradually they improve the school With same anticipation he stepped in forming school.
But, the change of Government and the formation of separate Directorate for Matriculation schools made drastic constraints for the new schools. The rules became complex that is the Government did not distinguish the rules for a newly forming schools and the already existing school.
Purchase of land, developing building construction, bringing electricity to the area itself, making the approach road and everything was done in a single step. Somehow it is done and it forced him to enter into lot of borrowing that too for higher interest. With painful efforts and sacrifices "Pole Star Matriculation Higher Secondary School" was recognised with the Government of Tamil Nadu.
Mr. Rajarajan came to Chennai with empty hands but his only assets are hard work, self-confidence and knowledge. He developed step by step and the entire resources what he has earned including goodwill, in Chennai for the past 25 years was invested to form the schools. His personal house which he has created by staff housing loan through I.O.B where he was working was sold and this money also got invested in the school. Every bit of jewels of his wife were also sold to cater the needs of this school. He resigned his IOB job, just completing 18 ½ years of service to involved in the development of his school. The entire benefits, of course least not much he received by voluntary Retirement from the bank including ex-gratia, P.F were invested in the school. Even without pension he came out of his job, with broad objectives of developing his school.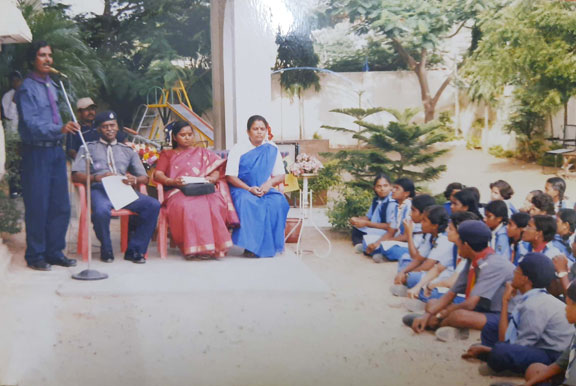 The school provided sincerely holistic Education, good Education with additional co-curricular facilities like Scouts & Guides, literature, cultural, thirukkural, Handicrafts, drawing, Ventriloquism, calligraphy, music, excepting a moderate and nominal fee for Academic running, no fee was collected for any of the additional services.
It is worth to mention here, that economically downtrodden students availed all these services with professional touch, free of cost.
Within a short span of time, the school has come to remarkably, higher level in quality and the level of achievements.
Mr. Raja Rajan, the founder of the school took VRS from his banking services to dedicate fully in the development of school.
The school offered a very good quality service to the students. The people were economical downtrodden. The school offered concession and free service to these students. For all these service, the funding is from the personal resources of the founder and not from donation of any kind.
To cater the investment needs of the school, a loan was availed from union Bank of India, but the untimely and under finance of the bank, did not satisfy the needs of the school. Besides this loan, the founder correspondent was forced to enter into external borrowings with higher rate of interest to complete the building construction, to provide infra structures and to transport facilities for the students.
He served in a bank and very much known for customer services and helped people without any expedition from their in turn. But when he approached the banks for real and noble causes, he faced lot of constraints and realised the difficulties to get finance for a real and good cause. The banks are very particular only to serve the already developed business class and the Settled people. Having no assets to hypothecate, a meagre loan was availed. All his basic assets were sold for the purpose of this school.
The school came up nicely and admission came because of the good will he has earned. The students were good but from below poverty line and from economically downtrodden families.
The school becomes very much known for its good services and quality education. All modern facilities like lab, lab, library, OHP, audio-visual were provided in the school. He was able to run the school successfully for about 7 years but with strains. Services, achievements and performance were extremely good, but the founders suffered serious financial crisis.
The school was known for providing training for art, culture, games, music, dances, yoga, thirukkural, Scouts & Guides without collecting any fee for these services.
Qualified teachers were appointed and teaching system followed in the school was too good. Beyond academic curriculum, deep and knowledge based Education became the speciality of this school. Sports training were given with more exposure. Since the founder himself is a good Badminton player, more concentration was given to this game.
The school students achieved a lot. They have won continuously in various competitions organised by number of organisations, NGO's, schools, colleges and government. Winning 1st position in district and state level science Exhibition innovative projections by the students of this school in district and state level is worth mentioning here. The projects Reversible pump and plastic table model machines were appreciated by one and all.
The participation of the students in Bharath Scouts & Guides Movement was spectacular and many students received the prestigious Governor's Raj Purashkaar Award. Few of our students participated in All India Scouts Camp – Jamburi held at Kolkatta to represent Tamil Nadu. These expenses were purely from the Correspondent.
Students were trained for Badminton, Karate, yoga and music and Baratham.
Many free health program were conducted for the students, parents as well as public. Literary programme in Tamil and English, Thirukkural competitions were conducted repeatedly. In association with Thirukkural Peravai 20 schools and 50 teachers were honoured with Awards.
The school was in vibrant functioning for 7 ½ years. Nearby school were helped for their needs. 200 trees were donated to a Government school in nearby areas.
In spite of good success of the formation and running of the school, the correspondent and his wife faced a serious financial setback and faced great sufferings which cannot be explained by words but only with tears!
Formation of school, building promotion, development activities, laying road to that area, bringing Electricity to that area, affiliation formalities all took place in one stage, school suffered with capital lock, lack of working capital and no flow of funds. Poor people of that area at that time were not able to pay even though basic nominal fee. The financial burden and strains were enormous.
Short term loan from the bank, refusal of the bank for restructuring the loan, the heavy monthly EMI's rejection of further advances by the bank have created great setback. Loans were paid regularly for more than 2 years and became NPA with no external borrowings with heavy interest become heavy burden.
Union Bank of India without understanding the ground realities and the goodwill of the school took all undesired steps treating this as a business venture instead of an Educational service. The bank has applied cruel security & Prevention Act to annex and sell the school property. Irrespective of payments, the bank tortured the correspondent and the school like anything.
Mr. Raja Rajan was forced to approach the tribunal court. The Judge realised the truth and situation gave the verdict in his favour. In between he was affected very badly in health due to the wrong medicine of a doctor and this made the situation still worse. Of course, the tribunal gave the stay order against the tyrant action of the bank. But expected finance could not be achieved and as a result nothing moved.
The founder had no habit of borrowing for any of his personal needs from any one including his kith and kin. But now, since he had involved in the venture of Educational service he started borrowing wherever possible to take back the documents and to re-hypothecate. But unfortunately all the doors were closed.
The reality is, the people who wish to help do not have money and those who have money did not have mind to help. Number of people were educated by him at free of cost. He has contributed liberally to all the good causes.
He paid fees for number of students. But he did not have mind to take helps from any one of the people.
He was cornered totally and his wife was in deep suffering funding no way to face this crisis. He is aware that all these sufferings were simply because of his strong desire to the cause of educating the people of below poverty line and economically in bad shape. Of course, this is the fate of almost all sincere and true professionalists, that too in education here. In our State and Country.
Added fuel to the fire, few property documents of his well-wishers which include his old students were pledged to unorganised money lenders to develop funds to solve the financial crisis of the school. Irrespective of regular interest payments these unlawful money lenders started taking steps to sell the pledged properties. This incident made him to face the worse situation. Issues related to debts could be solved. Somehow, but situation is such, the people who volunteered were forced to suffer. He and his wife desperately decided to solve this issue immediately. This serious situation forced him to sell the school.
The selling was not comfortable but with distress. A person who acted as if he is generous, agreed to purchase the school in a good rate, never kept of his promised and went back. He could not keep up his promise to the banks, financiers' besides many other related issues. Having left only 15 days for the dead line, he was forced to undergo a distressed selling to an unethical
school owner who purchased in disguise of low level brokers. Of course major portion of the loans were cleared and the purchaser dragged the settlement for about a year.
With another 25 lacs of dues left, he walked out with his wife but with empty hands. He touched the rock bottom one more time in his life, just not for his welfare but because of his intention to service the cause education of poor and downtrodden.
He landed Chennai from his native Mayuram with empty hands, after vigorous and sleepless hard work he came up to a comfortable level, landed in Educational service lost everything and came back to the starting position.
But, no regret, he has accepted this started his dedicated educational service again and now, running two academic centre successfully once "Students Vision Academy", in Kottivakkam ECR, Chennai - 41 and now Students Vision Academy is in Vibrant Educational Services functioning progressively.