About us

Students Vision Academy!
(Online & Offline)
Students Vision Academy (Kottivakkam, Chennai -41) has been incorporated by Lion Dr. R. Raja Rajan and Mrs. Vasanthi Raja Rajan with broad objectives of Educational services in multi focussed dimensions of Education.
Lion Dr. R. Raja Rajan, an Educationist since 1979 has been in this field serving in multiple areas as Founder – correspondent of a Recognized Higher Secondary School (Recognised), founder of Educational Institutions, Technical & Computer Institutions, Career Guidance Expert, Media Education Expert, Writer, Journalist, and an effective Orator besides many. In the same way Mrs. Vasanthi RajaRajan, a literary scholar, Educationist, poetess, writer, who has been associating with RajaRajan in almost all the areas since 1988. The continuous, dedicated and intellectual services of Mr. R. RajaRajan and his team made a number of achievements and created remarkable track records in the field of Education.
SVA & Edu Vision is neither a Tuition Centre nor a Coaching centre but a place of Wisdom which takes care everything under the curriculum. Concept teaching, Analysis, Depth in training and Creative approaches are the objectives of this Institutions.
The exclusive services of the Institutions are Intensive Teaching & Training programs in
Academic Courses - Schools & Colleges
Integrated Sessions - Academic & Entrances
Entrance to Entrances - All Entrances
Bridge courses
National Institute of Open School Curriculum
Tamil Nadu State Direct Appearance curriculum
Professional Courses
Besides
Competitive Examinations (State & Central ) meant for Employment
Civil services ( I.A.S / I.P.S….)
The added features of the Institution are Career Development programs, Personality Development programs, Sessions for Interviews (personal & SSB), Aptitude (Quantitative etc.) Reasoning (Verbal & Nonverbal) as well as General knowledge which includes current Affairs. The interested students are given training for soft skills like Stage Addressing, Stage presentation, writing, etc..
The Drawing classes attract the students and the classes are under the care of a top professionalists. The rare and creative arts like Magic, Origami and Calligraphy are also taught here.
Methodology of Teaching!
Concepts:
Our view towards teaching is, "Teaching is an Art; It must be holistic and divinely" How health care is meant for the well-being of physical Anatomical system in the same way, learning takes care of Moral & Intellectual care of an individual. The coincidence of physical and moral welfare is the basic aspect of peace and happiness of one's life. Teaching is like yoga which brings happiness to the minds of the students.
Our Institutions is giving priority in teaching the concepts of the respective subjects. Learning Concepts Systematically with creative approaches is needed in the Learning process of a Student. Students Vision Academy serves a Ladder in this process.
Our Approaches:
Our institution follow the 'Students Centred Approach' in training the students. The standard and level of the students will be assessed at the time of admission and the mode of teaching will be designed based on this. The subjects are taught from the basic and the syllabus will be finished well in advance to offer as many revisions as possible.
Conventional class room teaching blended with teaching assisted by modern tools like Audio-Visual, smart board, OHP and Power point presentations are followed. As Such, the Institution Serves fully in ONLINE mode and when it is possible and needed, OFFLINE classes will be extended. The institution is provided with full facilities for ONLINE as well as OFFLINE mode.
Laboratory: (EINSTEIN LAB)
The institution is provided with lab, to offer practical for the Science subjects whenever necessary, We organise experiments and demonstrations which is helpful for the better understanding of the subjects by the students. Besides the practical needed for Bosrd Exams we use our labs for regular teaching.
Library: (POLE STAR LIBRARY)
The library of the Institution consists of enough books collected by the Founder which include books of almost all subjects. The students can make of this library for their reference. It consists of books in regular syllabus of all subjects, Literature Book, Career Guidance Book, besides many captions.
Training Procedure
Notes and Assignments is an important parameter of Our Institution. Subjects taught are given as Notes and Assignments to the students either in printed or written form. All these materials are prepared by Mr. Raja Rajan to suit the needs of the students. In many occasions the Notes are prepared by him to satisfy the needs of even a single student. This procedure prevents the students from using the undesired bazar guides. Exclusive Specialized Notes is the Land Mark of Our Institution.
Writing notes is made man-date and the students easily learn to write fast and take notes during the classes by our approaches. Hints taking and notes writing which are not in existence now, is made as a practice here. So, here the students cultivate the habits of learning from their own preparations which has to be highlighted here.
Slip-tests, Mock Tests, periodical Tests and Model exams are conducted periodically. Spontaneous tests are immediately evaluated to assess the real instantaneous performance of the candidates.
DPR: (DAILY PROGRESS REGISTER)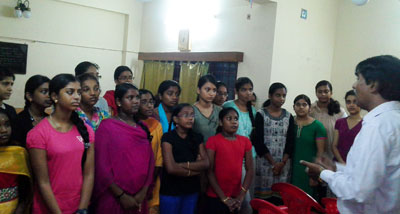 DPR – Daily Progress Register is given to all the students. This is a planning schedule given to the students. The students are expected to fill one format each every day, in which they should enter their day to day activities and make a note of W.I.P (Work in Progress). This is to teach them to plan without confusion in daily basis.
Parents Meeting:
The parents will be called for meeting frequently. Mr. RajaRajan addresses them together twice in a year. Besides the students and parents have to meet him, individually to discuss and analyse the performance of the students. The meeting is meant for transparent discussion, not for complaints. During this programs, Career guidance is offered. Psychometric Tests will be conducted to assess the students performance. Guidance will be given based on the "Study Skills" found by Counselling Process.
Programs:
Career Guidance & Counselling – twice
Saraswathi Pooja
All Faith Prayer – before Exams
Science, Maths, Arts Exhibition
Soft Skills
Award Functions
Annual day